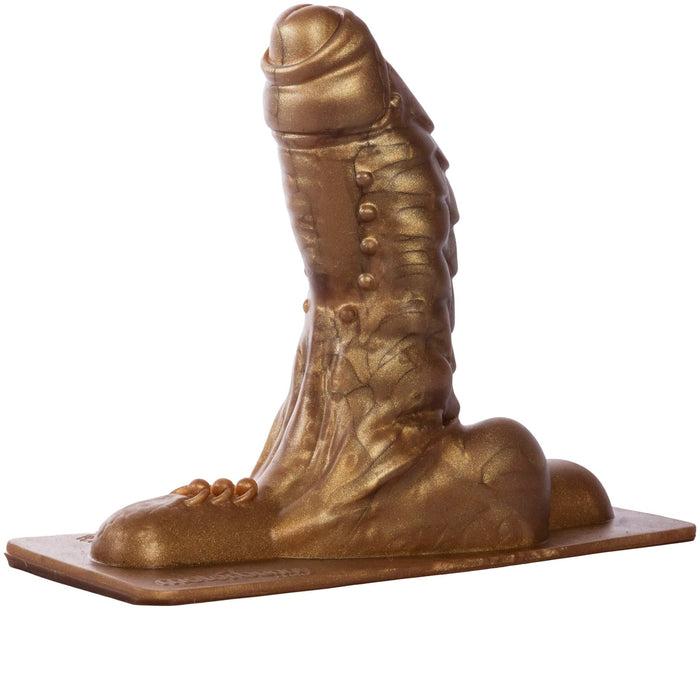 "Flint" Bad Dragon Attachment made for Motorbunny Original
Original price
$105.00
-
Original price
$135.00
"Flint" the Uncut Studded Dragon
Flint® is a huge sensation. Made of 100% body-safe platinum cured silicone. Originally designed in collaboration with Turbine through Bad Dragon® Labs as their first ever Staff Pick, this Motorbunny Original attachment's every detail is made to please even the most discerning of tastes.

From his pronounced, rigid plates that line his thick shaft, to his tantalizing steampunk studs and simulated foreskin, this uncut wonder truly is one of the Bad Dragon®'s most stimulating toys. Flint® is both filling and fulfilling thanks to his many physical traits, with truly impressive girth that delivers intensity on another scale entirely.

Perfectly angled for g-spot and p-spot stimulation and textured on all sides, you're in for an unforgettable ride.
Wash with soap and warm water

Only compatible with Motorbunny Original 

Not compatible with Motorbunny BUCK

All Attachments are non-returnable/ non-refundable
Baseplate Width: 3.88 in
Baseplate Length: 9.38 in
Diameter of Base: 3 in
Diameter of Shaft: 1.06 in
Diameter of Head / Upper Shaft: 1.63 in
Circumference of Shaft: 6.31 in
Circumference of Head / Upper Shaft: 5 in
Usable length: 4.81 in
Total length: 6.25 in
Baseplate Width: 3.88 in
Baseplate Length: 9.31 in
Diameter of Base: 3.25 in
Diameter of Shaft: 2.25 in
Diameter of Head / Upper Shaft: 1.88 in
Circumference of Shaft: 7.63 in
Circumference of Head / Upper Shaft: 5.88 in
Usable length: 5.63 in
Total length: 7.44 in
Baseplate Width: 3.88 in
Baseplate Length: 9.38 in
Diameter of Base: 3 in
Diameter of Shaft: 1.06 in
Diameter of Head / Upper Shaft: 1.63 in
Circumference of Shaft: 6.31 in
Circumference of Head / Upper Shaft: 5 in
Usable length: 4.81 in
Total length: 6.25 in
Baseplate Width: 3.88 in
Baseplate Length: 9.31 in
Diameter of Base: 3.25 in
Diameter of Shaft: 2.25 in
Diameter of Head / Upper Shaft: 1.88 in
Circumference of Shaft: 7.63 in
Circumference of Head / Upper Shaft: 5.88 in
Usable length: 5.63 in
Total length: 7.44 in
Baseplate Width: 3.88 in
Baseplate Length: 9.38 in
Diameter of Base: 3 in
Diameter of Shaft: 1.06 in
Diameter of Head / Upper Shaft: 1.63 in
Circumference of Shaft: 6.31 in
Circumference of Head / Upper Shaft: 5 in
Usable length: 4.81 in
Total length: 6.25 in
Baseplate Width: 3.88 in
Baseplate Length: 9.31 in
Diameter of Base: 3.25 in
Diameter of Shaft: 2.25 in
Diameter of Head / Upper Shaft: 1.88 in
Circumference of Shaft: 7.63 in
Circumference of Head / Upper Shaft: 5.88 in
Usable length: 5.63 in
Total length: 7.44 in