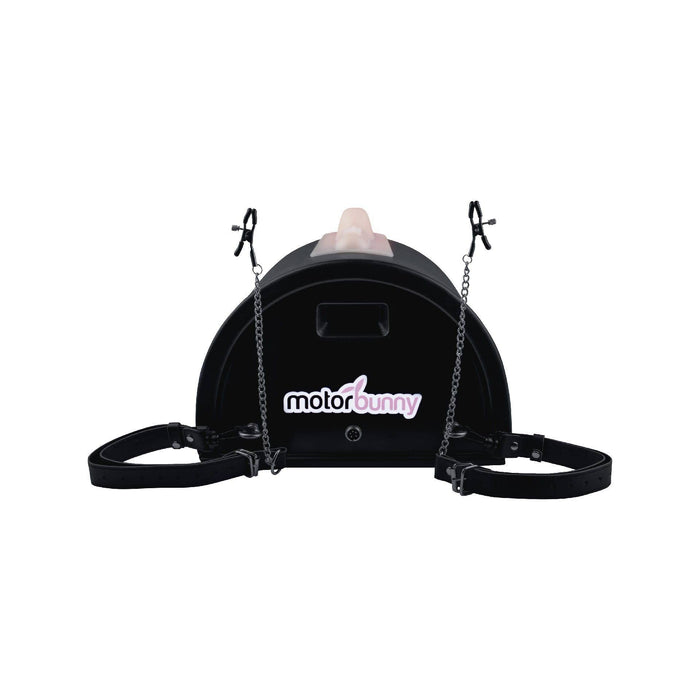 Save

$15.01
Save

$15.01
Original price
$50.00
-
Original price
$50.00
Weee!  These nipple clamps are sure to excite and arouse the Motorbunny rider.  They even pass through the Motorbunny eyelets to create a tugging sensation if the rider moves.
Nipple clamps with screw to help set position of clamp.

Premium chain design between clamps.

Fully secure Motorbunny unit before use.

Compatible with Motorbunny Original and Motorbunny BUCK

What are Nipple Clamps?
Nipple clamps can add pleasure to creative sexual experiences by stimulating an erogenous zone that is absolutely packed with nerve endings. Traditionally made of metal but now available in various materials and styles, nipple clamps are designed to bring heightened sexual stimulation by concentrating pressure on a sensitive spot. They are simply clamps, more often resembling a clothespin, with a rubber or silicone tip that pads the nipple but still allows for a healthy pinch. Nipple clamps come in pairs with both worn by a single user or shared with a partner. By adding sensation around the nipples, the clamps can lead to an endorphin release that produces an intense, head-to-toe orgasm. While the BDSM community initially introduced nipple clamps, they are becoming more commonplace and are found in the toolkit of "vanilla" couples around the world. There are multiple different styles of nipple clamps. Finding the one that works best for you or your partner's body is part of the fun! Nipple clamps work especially well with Motorbunny because of the four stainless steel eyelets that allow you to tether clamps or other restraints to the machine itself. This leads to creative experiences such as power transfer play and movement limitation, all while making use of the signature Motorbunny vibration power.
Nipple Clamps for Beginners
It is important to experiment with the pressure or pinch of nipple clamps before you place them directly on your nipples. Play with them first by using the clamp on your finger, and then on the skin near your nipple. Once you have become familiar with the sensation and are ready, place the nipple clamp directly on the nipple, being careful not to pinch the skin around it. Many nipple clamps are adjustable, which means you can tailor the strength of the pinch to your liking. Once you feel a rush of endorphins, remove the clamps for a bit, and then place them back on if desired. You can save the nipple clamps for use right before an orgasm or alternate use between you or your partner. It is important to remember that the nipple clamps cut off the body's blood flow, so they should not be worn for more than 20 minutes.
Types of Nipple Clamps
There are many different styles of nipple clamps to choose from:
Nipple clamps: the traditional style of nipple clamp is shaped similar to a clothespin. It has silicone or rubber tips that surround the nipple while adding pressure.
Tweezer clamps: Shaped similar to a tweezer used for medical procedures, tweezer clamps have an added ring that wraps around the two pieces of metal and can be moved to adjust the tension of the tweezer.
Nipple suckers: Made of silicone or rubber, nipple suckers create a sucking sensation around the nipple without pinching. They are an excellent alternative for those who are not quite ready to be pinched.
Clover clamps: Sometimes called "butterfly clamp," is a Japanese style nipple clamp that stays in place using spring tension. Clover clamps are for more experienced users and are often used with weights or chains so that the clamp pinches harder and harder, producing a painful feeling desired by some wearers.
Chains, weights, and other accessories may be added to the nipple clamps for an added exciting element or to attach the wearer to an object or their partner.
Should I Buy Nipple Clamps?
If you or your partner are ready to introduce new and exciting elements to the bedroom, nipple clamps are a non-intimidating and straightforward way to explore creative new possibilities. Alternate use between you and your partner to increase the power of your orgasms. Try different styles of nipple clamps to find one that works best for your body, of course clamps that feature clips work best with Motorbunny and its stainless steel tie-on points! If you enjoy bondage, nipple clamps are a good first experience for a partner who may be unfamiliar with BDSM. Let us know how you enjoy them. Your feedback matters a great deal!