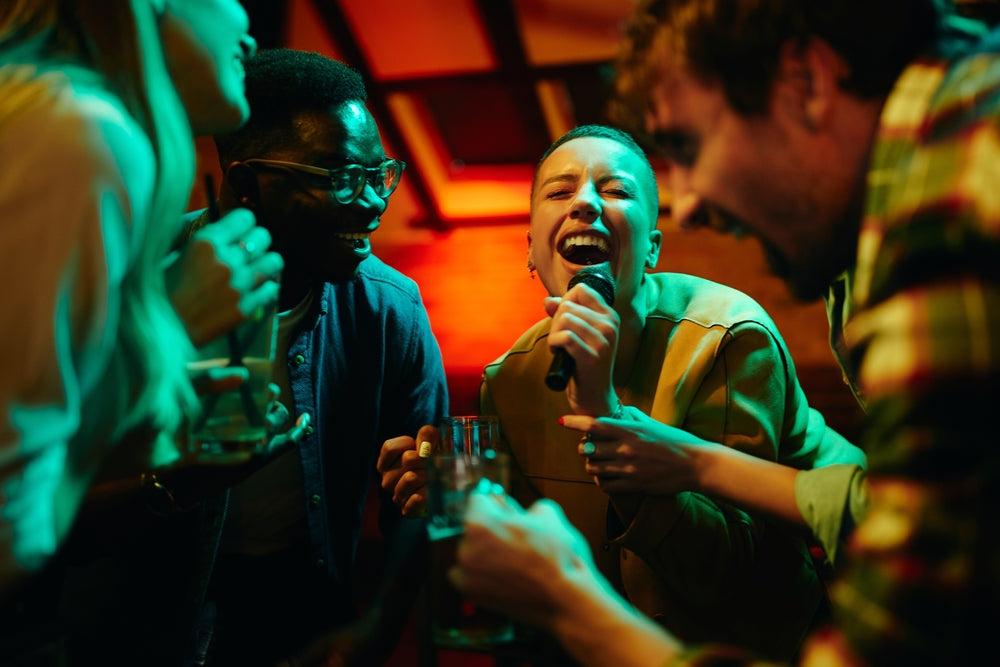 Motorbunny Karaoke
Picture this: It's a cold and windy Saturday night at the local dungeon and a crowd has gathered to indulge in a provocative form of entertainment. Welcome to Motorbunny Karaoke, a night of seductive music, laughter, and intense sensations. In this one-of-a-kind event, a group of daring participants embraced the challenge of performing their favorite songs while experiencing an unexpected twist—intimate sensations delivered by the Motorbunny machine. It was an evening of passionate fun, shared intimacy, and a unique test of vocal prowess.
Motorbunny Karaoke takes the traditional concept of karaoke and adds a tantalizing layer of allure. Instead of merely singing along to a track, participants found themselves sensually seated on the Motorbunny, an enticing device designed for an array of intimate experiences, heightening the sensuality of the singing experience.

The riders were allowed to choose a song and embarked on their performance while their partners (or sometimes the other rider in the case of a duet) adjusted the vibration and thrust/twirl settings in an attempt to derail the song. The challenge lay in maintaining their composure while the Motorbunny introduced unpredictable yet titillating sensations. It was a mesmerizing spectacle as singers navigated these sensations, attempting to hit the high notes while succumbing to the seductive surprises the machine offered.
One of the most seductive aspects of Motorbunny Karaoke was the unpredictability it brought to both the participants and the audience. Sensual laughter and heated glances filled the room as singers tried to maintain their focus amid the arousing sensations created by the machine. Some singers really went for it and managed to ignore the vibrations while belting out their favorite songs. The audience enthusiastically cheered on the performers, celebrating their successes and sharing in the sensual laughter when things didn't go exactly as planned.
After each song, the riders were helped off the machines and seated in chairs (as most were unable to walk due to having so many orgasms or at least very intense sensations). They sat in that chair with a smile on their face while being comforted by their partner. Clearly they had a good time. The next time you're yearning for a night of tantalizing and unforgettable thrills, consider experiencing Motorbunny Karaoke for yourself—it's an unforgettable and irresistible ride as well as a test of concentration and vocal range!
If you are interested in getting a Motorbunny for yourself, visit https://motorbunny.com and be sure to use code KITC50 for $50 off a machine. I can't help you with the Karaoke machine though (however for this event, I just used YouTube and a Laptop as most popular songs are on there in a karaoke format).
About the author:
Switch Jake is a BDSM educator from Denver, Colorado. He has been teaching for 25 years on a variety of BDSM topics all over the country, usually at BDSM conferences. However, other venues need education too and he is happy to provide knowledge to those seeking it. Check him out at https://switchjake.com