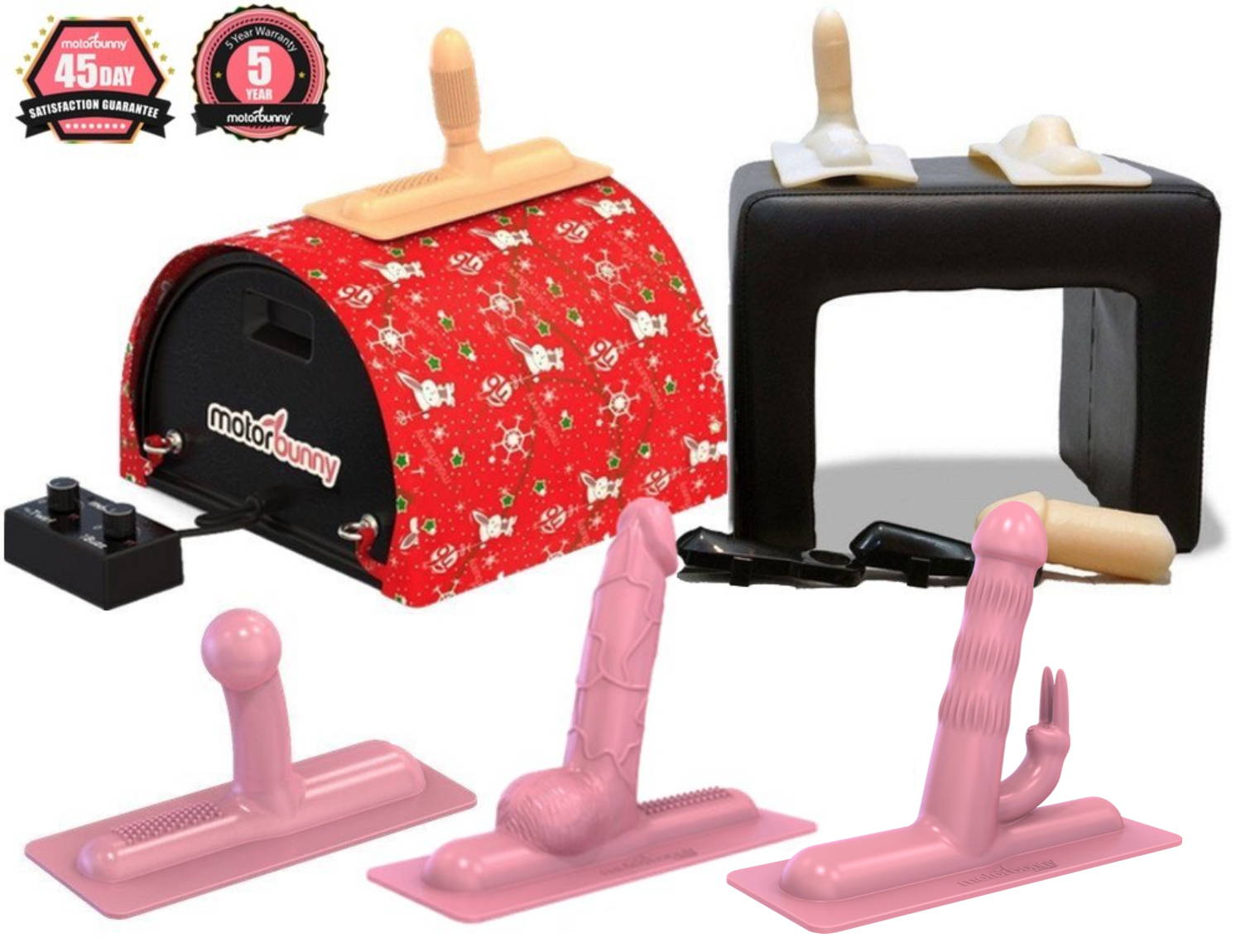 LET'S GET YOU A BUNNY!
Motorbunny is a great gift for your loved one, but there are a lot of options! To bundle, or not to bundle? That is the question. Check out all your choices below!
UPS Next DAY AIR Shipping DEADLINE
Place your order by 3 pm EST on 12/19 to receive your order by 12/24. (This only applies to the 48 contiguous US states. See shipping options at checkout for details!)
---
This is the classic, gold-standard saddle vibrator! When you order the Motorbunny Starter Kit you get everything you need to get started!
A Motorbunny! Of course you get the saddle vibe everyone's raving about.
Four High Quality TPE attachments. Flat, Small, Big, and Bigger. You're covered. (If you're giving a Starter Kit as a gift, we recommend starting your partner out with a flat attachment and moving up from there to let her get used to it!)
Two Attachment Risers. We're all built differently and these will help elevate the front of attachments to let your bunny hit just the right spots.
A Bunny Rest. (You know because having multiple orgasms can be tiring.) It's also just more comfortable to lean to find just the right spot.
Two Rods and Two Springs. These connect the Motorbunny to penetrating attachments and allow them to "twirl." Rods are stiffer, and springs are, well, springier.
Power adapter and standard controller
Want more? Check out our bundle deals below!
$899 TODAY!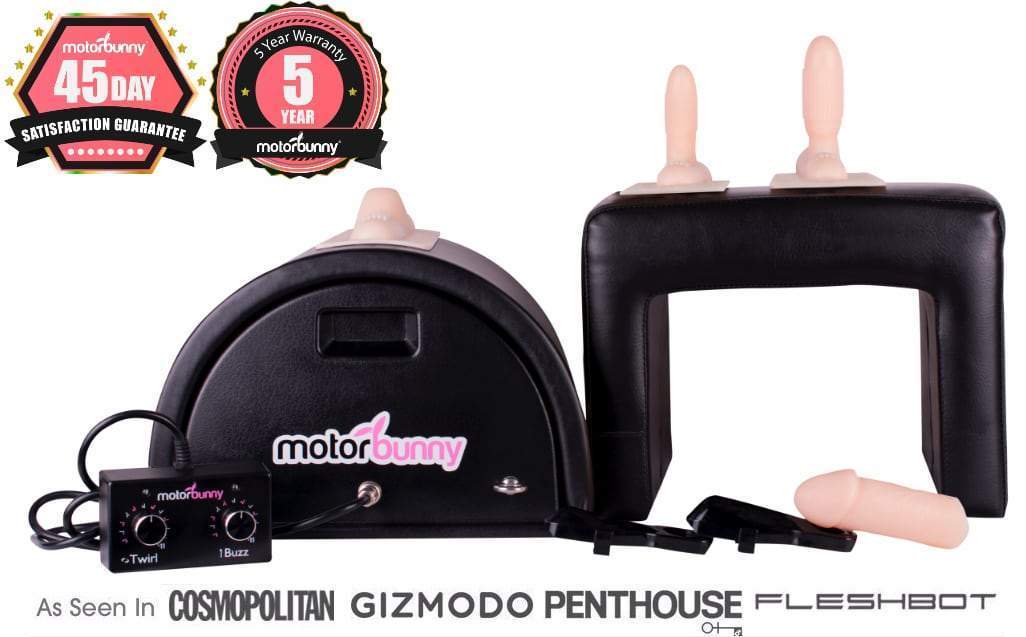 ---
CHRISTMAS GIFT SET W/ LINK CONNECTIVITY
This includes everything in the Motorbunny Starter Kit, PLUS...
Standard Black Motorbunny Starter Kit (4 standard attachments, 2 risers, 2 springs, 2 rods, A/C adaptor, Bunny Rest, Controller)
"Clitoris" Premium Silicone Attachment
"Mount Rushmore" Premium Silicone Attachment
Exclusive Christmas Cover (Easy to clean and removable)
$929 TODAY!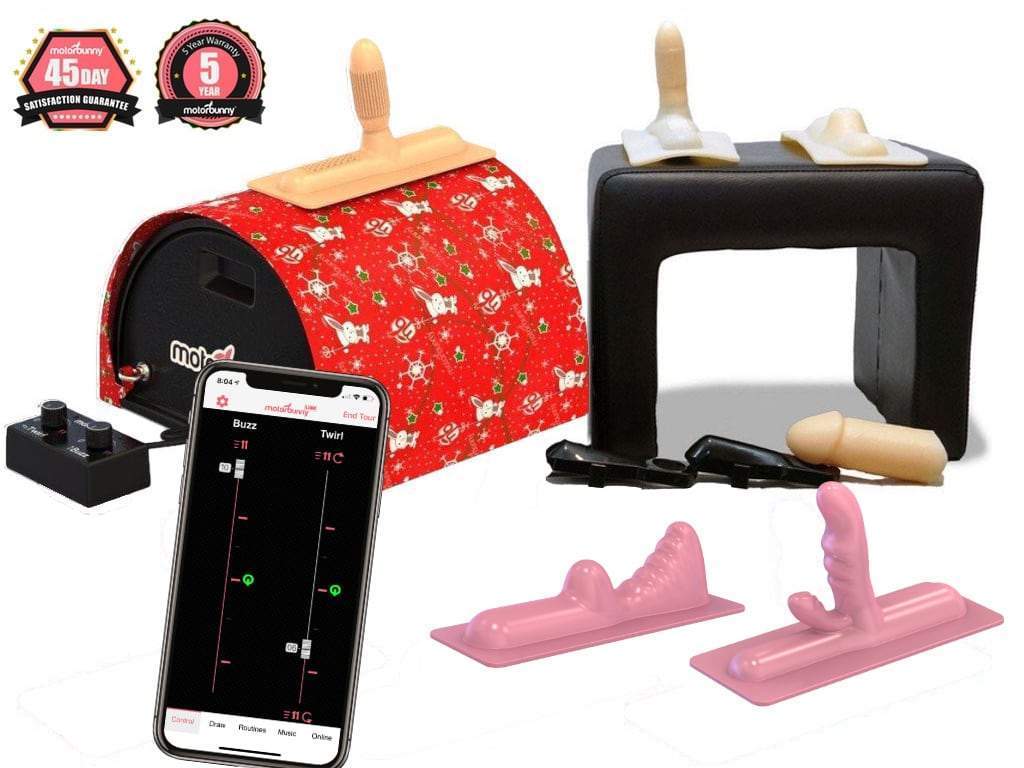 ---
ULTIMATE CHRISTMAS GIFT SET
This is the whole shebang! Everything in the Starter Kit, PLUS...
Included:
Standard Black Motorbunny Starter Kit ( 4 standard attachments, 2 risers, 2 springs, 2 rods, A/C adaptor, Bunny Rest, Controller)
Motorbunny LINK Bluetooth and Internet Connectivity Controller
Ankle Restraints
Wrist Restraints
Nipple Clamps. (Yes, the vibrations travel)
5 Different Motorbunny Covers (Blue, Purple, Pink, Black, and White)
"Lolli" Premium Silicone Attachment
Double Penetration Premium Silicone Attachment
Bunny Buddy Premium Silicone Attachment
About the Motorbunny restraints:
Kinksters rejoice! There's finally an easy way to tie and bind to your Motorbunny. These restraints are one size fits all and perfect for bondage play.
Clip for Motorbunny eyelet.
Extendable strap for restraints.
Soft leather cuff with faux-fur liner.
Fully secure Motorbunny unit before use.
$1469 TODAY!
---

---

---

FIVE-YEAR WARRANTY NOW STANDARD